Traumurlaub
How to arrive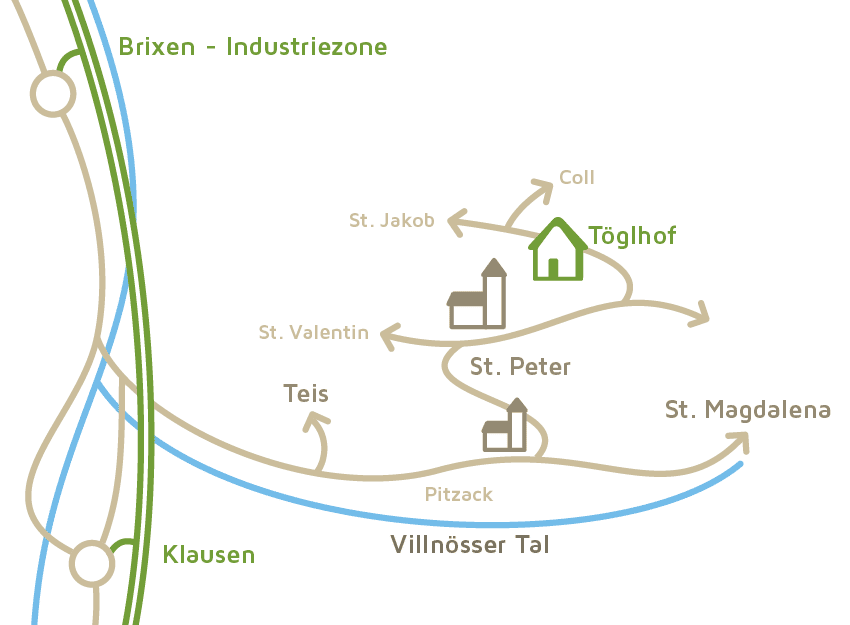 When coming by automobile:
Take the Brenner Autobahn A22 and turn off at the Klausen/Chiusa exit.
Drive for approx. 2 km on the state road towards Brixen/Bressanone and take a right turn according to the street signs, thus entering the Villnöss/Funes Valley. After about 9 km, take the left fork in the road to the village of St. Peter. After you come to the Community Center / Tourism Office, take a right turn and follow the road towards Würzjoch / Passo delle Erbe. Our hotel is located above the village center.
Hints for your navigation device:
Please make sure when you enter the data into your device to select 'Funes/Villnöss' as the place, because there are several places with the same zip code. Since 01/11/2014 we also have a new street name. Therefore, try the following options in your device:
Search for the Hotel: Töglhof
Old Street: St. Peter 17, Villnöss/Funes
New Street: Coller Street 1, Villnöss/Funes
When coming by rail or bus:
From the nearest train stations in Klausen/Chiusa or Brixen/Bressanone, you can conveniently reach us via the regular municipal bus. Exit the bus at the stop for "Pitzack" or "St. Peter" and proceed on foot towards Würzjoch / Passo delle Erbe. You'll reach our hotel after about 15 minutes.
We will be happy to have our car pick you up at the bus stop, if you wish.